The Carry Hope Run 2020 was originally scheduled to be host on 27 June 2020 over at Marina Bay. Due to the global unprecedented Covid-19 pandemic, we had decided to launch just the #CarryHopeRDSS social media campaign in 2020 to help raise awareness for the rare.
"Let us come together to keep the hopes of our children and their caregivers alive! "We not just want to keep these children alive; we want to give them a life." – Mrs Patricia Mah, President of Rare Disorders Society (Singapore)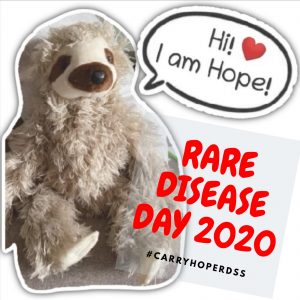 While everyone is still concerned about Covid-19, let us not forget about people living with a rare disorder. With the vaccine made available, we can now prevent the spread and the destruction caused by Covid-10. But, do you know that only a handful of rare diseases has a treatment or cure? Many of our beneficiaries are living with a lifelong disease but keeping their hope and faith that one day, a cure will be found for the rare disorder that they are born with.
Carry Hope Virtual Run 2020/21

To kick start the social campaign, RDSS has organised a virtual run, Carry Hope Virtual Run 2020/21 to encourage the public to be a Carry Hope Ambassador! It is also an event to mark Rare Disease Day, which falls on the last day of February each year. Runners will run 7.7km and post their picture with Hope on their social media platform.

Runners will run 7.7km and post their picture with Hope on their social media platform.
Registration starts on 4 December 2020. Last day to register for the run: 22 Feb 2021
Extended day to register: 22 Mar 2021
Last day to post social media to be picked up for video creation: 22 Mar 2021
Last day to upload run data: 31 Mar 2021
Register here.
Why 7.7km?
There have been on record, over 7000 kinds of rare disorders and many more still being undiagnosed. Rare diseases currently affect 3.5% – 5.9% of the worldwide population.
72% of rare diseases are genetic whilst others are the result of infections (bacterial or viral), allergies and environmental causes, or are degenerative and proliferative.
70% of those genetic rare diseases start in childhood.
A disease defined as rare when it affects fewer than 1 in 2,000 people.
Steps to register for the virtual run:
Step 1: Register for the run via the registration portal here.
Step 2: Collect sloth plushie!
Step 3: Go for your run and remember to use an app (Strava) to record your run details.
Step 4: Snap a picture/video of you, carrying HOPE for the run. Upload on FB and/or Instagram. Hashtag #CarryHopeRDSS. Set your post on privacy setting as public so that we are able to view.
Step 5: Email us at contact@rdss.org.sg your run details and social media posting URL link.
Step 6: Wait for your finisher medal and customised face mask to be sent to you after we have verified the required that you have email to us!
Each registration for single pax costs $55 and is entitled to:
1) Sloth Plushie (self-collection will be at Tiong Bahru, at designated timing) 
Upon completion of 7.7km and sending us the required: 
2) Finisher Medal
3) Customised Carry Hope Face Mask
If you register as a group,
Group of 2 runners: 10% discount ie $49.50 per pax
Group of 3 to 5 runners: 20% discount ie $44 per pax
RDSS Runner Group / SAFRA Running Groups $44 per pax (Email us for code.)
Frequently Asked Questions
Qs1) Can I run a few runs, that has a total distance of 7.7km rather than to complete the distance within a single run?
Ans: Yes, definitely! Just submit in the screenshots of the distance ran. So long it is at least 7.7km, it meets one of the requirements to get the finisher medal and the customised face mask.
Qs2) Can I not run yet register for the run?
Ans: Yes you may! However, you will not receive the finisher medal and the customised face masks. You may want to bring HOPE back home via iROO mobile app that will save you the hassle from collecting the sloth plushie! Click here to find out how.
Qs3) How do I record the distance that I am going to run?
Ans: We will highly recommend using the mobile app, Strava. Screenshot the finishing distance at the end of run and send it in to us together with your social media post URL link with the picture/video you took with HOPE!
Qs4) Where do I submit the run details and the social media posting URL link?
Ans: Please email to contact@rdss.org.sg the following:
– Screenshot/s of distance ran at least totalling 7.7km
– URL link of social media posting (Please remember to set your posting as public because we will be sharing your post on our FB and Instagram page too!)
Qs5) Can we send in just one run reading and URL link if we are running in a group?
– Yes of course! So long you have registered, completed the 7.7km run and your picture is captured in the social media posting, we will be sending out your finisher medal and customized face mask.