Race for 7 2019 
About Race for 7:   Race for 7 is an awareness run originated from India and organized by Organization For Rare Disease India. In 2019, RDSS has partnered with ORDI to bring the race to Singapore!
Purpose:   To raise awareness about rare diseases, to empower patients and their families with access to national and international resources. To offer more support to people and their family living with rare disorders in Singapore.
Rare diseases in Singapore:   A rare disease is one which affects fewer than one in 2,000 patients. Many rare diseases are fatal. Most rare diseases are genetic, directly caused by changes in genes or chromosomes that affect the body's ability to produce enzymes or biochemicals needed for the body to function normally.
Rare diseases can affect people of all ages but they are often diagnosed at birth or during early childhood. Without treatment, most conditions can be life-threatening. About one-third of patients with rare diseases globally do not live beyond five years old.
There are no treatments available for most rare diseases. But for a few, effective medicines are available which can replace the missing enzymes or biochemicals. In such cases, with early treatment, patients' lifespans and quality of life will be greatly improved, allowing them to live relatively normal lives.
The medicines usually have to be taken for the patients' entire lives and can be very expensive. This places a heavy financial burden on the patients and their families.
As per record, more than 7000 rare diseases have been documented so far.
Racefor7 symbolically represents the 7000 rare diseases with 7000 people running for 7 kilometers.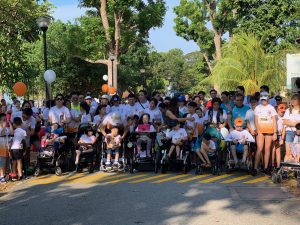 We know you care because love is not rare!